Nigerian genius shocks the world by breaking record in Japan
The next time someone sits beside you and says Nigerians are clueless and not intelligent, be sure to give the person good reasons never to underestimate the smart people of this nation again.
When something remarkable happens in the society, it is only normal for us to commend the effort of those who participated in the event. Nigerians are smart, witty and intelligent set of people who will continue to leave a landmark anywhere they go. On several occasions, they have been able to achieve feats considered to be unattainable by other people in the world.
At the elementary level, we have sharp kids who are intelligent and smarter than their ages. Being a genius is not limited to the professional group of people in Nigeria. Ufot Ekong is a Nigerian genius who has joined the league of people who put Nigeria in the spotlight. The young man who hails from Akwa Ibom has succeeded in breaking a 50-year-record in Japan. He received his masters' degree in electrical and electronic engineering from Japanese University.
This Nigerian guy had the highest grades in Tokai University in Tokyo. No score as high as that has been recorded in the university in the past 50 years. In his first semester, the Nigerian genius solved a maths puzzle that has been unsolvable in the last 30 years.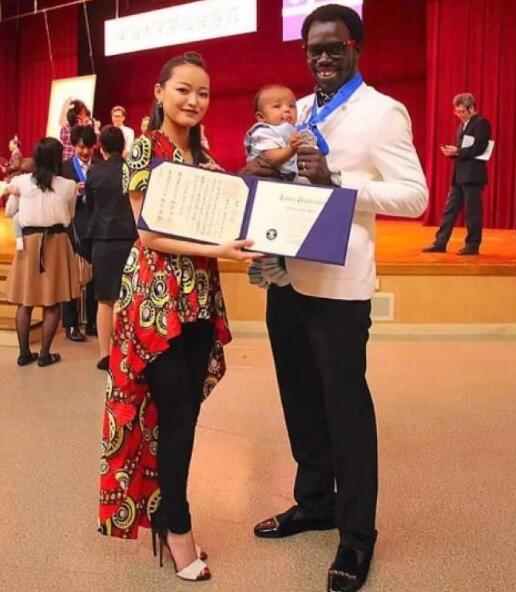 In addition to these marks of excellence, Ekong graduated with a first class degree in electrical engineering with the best marks since 1965. He had won 6 awards for academic excellence as a student in the university. Ekong, like normal human beings, was faced with lots of challenges even though he remained focused and did not let those things derail him. As a mathematician, he had to shuffle between two jobs so as to pay for his education.
This is the kind of recognition we need as a nation as events like this puts us in a good view. The Akwa-Ibom genius has done well for himself and the nation. His pretty wife was there with their child to support him as he took the award.
Ekong's brilliancy is further enhanced with his ability to speak English, Yoruba, and French. He also won Japanese language award for foreigners. He works for Nissan now and has in his name, two patents for electronic car design. Unlike other nerds who cannot multitask, Ekong plays saxophone and owns a retail shop named strictly African Japan. He is a twin with his twin sister working in the UK as a security consultant.