Erigga rides through the hood on "A Trip To The South"
Album - A Trip To The SouthArtist - EriggaRecord Label - Emirates Empire (2017)Duration: 54 minutes
Everyone who follows Nigerian Hip hop knows and has a layer of respect for Erigga.
The rapper defines street music, with his entire catalogue containing local lyrical gems. His work has elevated him to cult hero status, with the entire South-South region of Nigeria recognizing him as one of their brightest music luminaries. In his hometown Warri, he is celebrated as a local star, representing the grit and defiance of the people.
In 2016, he signed a record deal with new group, Emirates Empire, earning a structure and funding to begin his onslaught of the pop music space. He's relocated to Lagos, the hub of the Nigerian music industry, and his new project is his first major body of work under a record label. You could find his take on the journey to Lagos on 'Lagos', featuring Southern great, Duncan Mighty.
"Who go better go better na tey e dey tey, I no dey go anywhere, na Lagos I dey."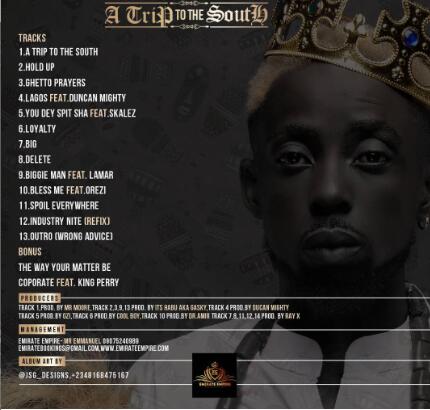 It's the gem on this project, and the defining idea that brings it all together. "A Trip To The South" captures Erriga's essence as a street storyteller. Life on the street has made him a man of many words and experiences, and it is this hood wisdom that drives his music. 'Loyalty' carries the weight of this free-thinking. It expands on a core tenet of the street. "My nigga pick money him see me dey," he raps on the record of betrayals, long nights of alcohol, and human fallibilities. But if you ever want the reality of the Nigerian music industry, 'Industry Nite' is a bible of the human behaviour which drives interaction in Africa's sound hub.
This is his world, his universe and mental space, commoditized and spread out for all to see. There's still more for Erigga to achieve, and this project, with its single story, shows that this is the start of something big. There's a sense of commencement here, a journey that can only end with Erigga moving closer to his full potential as a pop artist.
Rating: 3.5/5
Ratings
1-Dull2-Boring2.5-Average3-Worth Checking Out3.5-Hot4-Smoking Hot4.5-Amazing5-Perfection