From empty nest to full house
Relationship
|
Aug. 03, 2017
The sign went up today. Eighteen years of life well-lived is for sale. An empty-nest ranch on a quiet cul-de-sac grabbed us at the first drive-by. Within the first year, our daughter graduated college and came to stay for awhile. A few months later, our son and his wife moved in with our first grandchild. Laughing and loving and living, we made it all work. In the blink of an eye, along came another baby girl... and another son through marriage! Our kids found their own homes and it was just us again. To build a garden wall, plant flower beds, design and construct a deck. Full-time jobs didn't keep us from babysitting, having sleepovers and spoiling our granddaughters.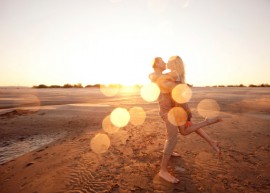 Swimming, bike rides, carnivals, fairs and Disneyworld... all through the eyes of children again. We were having the time or our lives. Missteps and health hiccups finally caught up with us, but we handled it in stride. Working from home in his wheelchair, then a walker and finally a cane, Grandpa orchestrated and oversaw the house renovation project. Wood floors, new appliances, added windows, French doors, Berber carpet. As his health and mobility improved, we did a switcheroo..... He took over household chores and I tackled the yard work. Great fun with our young grandson running around most days. Just when we thought it couldn't be a more wonderful life, The twins came along! Retirement quickly followed and now It truly was a Grandma and Grandpa house with double the stuff and double the fun.
Sandboxes, slides, swim gear, scooters and a chalkboard filled the garage. Portable cribs in the kid's room, games and books cluttering the den and lap trays for Breakfast-in-bed mornings with Grandpa's famous pancakes. All five grandkids had pals in the neighborhood. The twins lost their fear of dogs from the gentle collies who lived next door. The man across the street lent a hand for trimming the too-high hedges. Every Halloween, there we were sitting outside. In costumes. With gin and tonics. Catching up with the neighbors while passing out goodies was the highlight of fall. Our yard, decorated front, back and side, had the most witches, scarecrows and ghosts Thanks to Grandpa's bargain shopping. Same at Christmas time. So many freezing Decembers we took turns on the ladder Putting up colored lights, hanging wreaths, Blinking Santas, snowmen, polar bears and a family of ducks. The after-holiday-clearance Stuff was all right there in our beautiful yard. "The more the merrier the holiday," he'd say. And inside was no different.
Over the years, we acquired quite a collection of musical decorations. Imagine them all playing at once with little hands winding again and again. From the time they were little, the kiddos planted flower and veggie seeds every year. We called them Gardenyardigans. Carrots and strawberries were the favorites and Learning to cut, gather and display their flowers kept each room in bloom. We helped them hunt for leaf and bug specimens, and watched as they ran and shrieked Catching fireflies on a warm June night. With the stone wall and oversized deck, there's not much lawn to play on....but there's a hill! Great for sliding down in winter snow, slippery fun running down into the summer sprinkler.
No holiday decorations this past year. No sitting outside at Halloween. The kids are busy with sports and clubs and are all skilled swimmers now. Sleepovers are not as frequent, and breakfast is sometimes donuts, not pancakes. It's not the same. Just not the same without him. Both the inside and the outdoors have lost something; The other half of hard work, accomplishment, pride, enjoyment and loving this house. A brand new place 18 years ago became a lived-in home filled with happiness. Now it's a Grandma-only house. Soon, the time to say goodbye will be here. Time for this ranch to welcome a new family full of love and laughter. If I could wrap my arms around this house, I'd thank it for letting us become grandparents, for allowing us to grow old together and Eventually, for giving me the strength in it's soul to grow peace in mine; Giving us both hope for a new future.