Heartbreaking! Young man who went to NYSC camp was struck with a strange illness
EagleHeadline
|
Jun. 21, 2017
Here's how a Facebook user reported the heartbreaking and sad story of her brother with photos on social media;
*********************************************************
This is to the entire world, caring hearts and well wishers.
My brother (Obafemi oluwatimilehin paul), a current serving corper in the just dispatched 16B stream 1 set with state code KB/16/2111 while in Kebbi and also a graduate of the Federal University of Technology, Akure has been diagnosed by the doctors with Aplastic Anemia.
After he graduated from FUTA without this sickness, he was posted to Kebbi state to serve his Father land as soon as he got to Dakingari camp in Kebbi state, he began to feel extremely exhausted and there he was told he had pale eyes which is a symptom of low blood(Anemia). He had to redeploy back to Oyo state for proper treatment.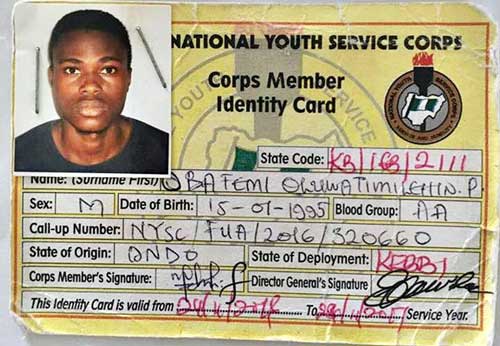 November 22nd year 2016, my brother was admitted to University college Hospital Ibadan, he is constantly been transfused with both blood and platelets. The cost of drugs he uses per day is just so enormous and the the doctor also said they need #30 million naira for bone marrow transplant. His bone marrow is malfunctioning and can no longer produce enough blood to his body.
Our only mother has spent all her life savings and now she's currently begging from one church to another so her son will not die. To the world, am his brother also serving in Kebbi state right now I have spent all my allawee on this ailment too, please come to our aid, we need your support for him not to die.
A sealed mouth is a closed destiny, I cry for help. Yoruba adage says "Eniti Iwo ba nipa lati se iranlowo fun, ohun ni enikeji re" please help us.
N/B: A check on the young man's Facebook page while filing this report, revealed that he passed away last night. May his soul RIP.